ミッション
Mission
その研究が、
その発明が、
そのイノベーションが、
社会を変えるまで。
Let us help
your research,
your invention,
your innovation
change the world.
日本の大学には、世界にも誇るべき研究がたくさんある。
その価値ある研究成果が、もっと社会に出ていけば、
もっと世の中を良くすることができるはず。
しかし、大学の研究室から、
社会という荒波の外海へ出るとき、
研究力に加えて、確かな事業力がないと、
いとも簡単に埋没してしまう。
ロマンや夢だけでは、生き残れない世界がある。
研究室で生まれた技術や発明が、
社会を変えるために必要なビジネス・グロースを、
私たちが支援していきたい。
シード期から上場後の経営までを経験してきたノウハウと、
多様なバックグラウンドを持つチームで、
ひとつひとつの事業を、ひとつひとつのやり方で、
ずっとずっと遠くまで(私たちから離れても)、
自走していけるように、支援していきます。

「活用なき学問は、無学に等しい」

かつて福沢諭吉が示した通り、社会に役立ってこその学問です。
私たち、慶應イノベーション・イニシアティブが、
アカデミアの世界と、ビジネスの橋渡しとなり、
その技術、その発明、そのイノベーションを
社会に実装していきます。
Japan's universities conduct a wide range of research.
Given a more visible platform, the invaluable results of this research
can make the world a better place.
But once they leave the safety of the lab
for the stormy seas of wider society,
these results need more than just dreams,
passion, and a solid scientific foundation to survive.
Technologies and inventions born in labs
need business expertise to change the world.
That's where we can help.
With our know-how from the seed period
to post-listing management,
our diverse team of specialists supports each project
in the most suitable way to help it grow
and become fully independent.
"Study without application is like no study at all."
As Yukichi Fukuzawa once said,
study becomes truly meaningful when it contributes to society.
Acting as a bridge between the worlds of academia and business,
the Keio Innovation Initiative will continue helping bring
exceptional technologies, inventions, and innovations into the world.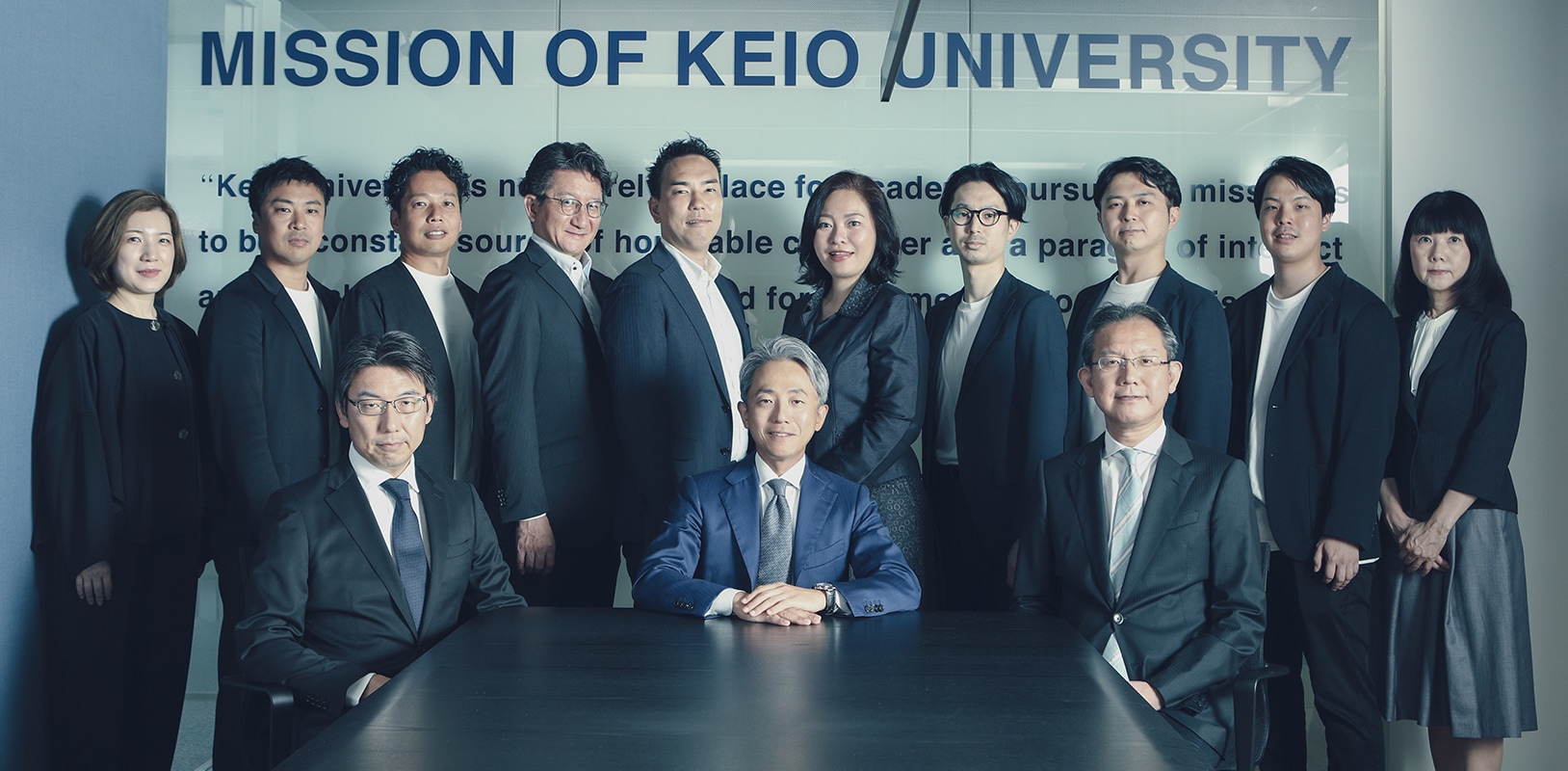 会社概要
Company Profile
Company name

| | |
| --- | --- |
| Name | Keio Innovation Initiative, Inc. |
| Address | Mita International Bldg. 10F, 1-4-28 Mita, Minato-ku, Tokyo, Japan 108-0073 |
| Establishment Date: | December 17, 2015 |
| Capital | 100 Million JPY (Including a capital reserve of 50 Million JPY) |
| Shareholders | Keio Academic Enterprise Co., Ltd. 80% Nomura Holdings, Inc. 20% |

Directors and Advisors

| | |
| --- | --- |
| CEO | Kotaro Yamagishi |
| Director | Masaaki Sato (Managing Director, Keio Academic Enterprise Co., Ltd.) |
| Director | Kenichi Takehira (Nomura Securities Co., Ltd. Senior Managing Director) |
| Auditor | Yasumasa Kumabe (Lawyer, Haru Law Office) |
| Advisor | Masahiko Shimizu (Emeritus Professor, Keio University) |
| Advisor | Go Sugiyama (Nomura Holdings, Inc. Senior Managing Director (Head of Retail)) |

Fund Profile

| | |
| --- | --- |
| Name | 慶應イノベーション・イニシアティブ1号投資事業有限責任組合 |
| Amount | 4.5 billion yen |
| Founded | July 1, 2016 |
|   |   |
| Name | KII 2, LPS |
| Amount | 10.3 billion yen |
| Founded | January 24, 2020 |

Social contributions
アクセス
Access
Mita International Bldg. 10F, 1-4-28 Mita, Minato-ku, Tokyo, Japan 108-0073